Eindhoven, May 29, 2018
15 weeks left before the expo experience ROBOT LOVE opens its doors in the Campina Milk Factory in Eindhoven on September 15th. The opening and press conference will be held September 14th. In this message we announce the names of the artists participating in the exhibition. One of them is Hito Steyerl whose video installation, Hell Yeah We Fuck Die (2017) will be presented, curated together with the Van Abbemuseum. A key work by one of the most influential artists of the moment (no. No. 1 in the 2017 Power 100, Art Review).
ROBOT LOVE is looking for the connection between humans and robots. New technologies awaken us and offer opportunities. Robotics and AI challenge us to think about who we are and what we want to become. ROBOT LOVE takes place on different platforms. In addition to the artists, the list of names also shows contributors to the public program of ROBOT LOVE and authors of the forthcoming publication of the same name (marked with *). This full-color, 250-page publication will be released days before the opening of the expo experience (Terra Publishing, ISBN 9789089897763).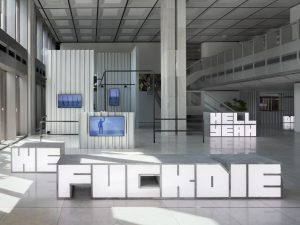 Hito Steyerl. Hell Yeah We Fuck Die (2017, video installation)
ROBOT LOVE
Participating artists:
Army of Love | Korakrit Arunanondchai | Minoru Asada* | Margaret Atwood* | Johann Arens | Trudy Barber* | Adam Basanta | Will Benedict | Margriet van Breevoort | Bureau d'Etudes | Felix Burger
 | Server Demirtas | Maartje Dijkstra | Stephanie Dinkins | Disnovation | Aleksandra Domanović | Marco Donnarumma | Driessens & Verstappen | Maxim Februari* | Zoro Feigl | Gijs Frieling/Job Wouters | Arnon Grunberg* | Funda Gül Özcan | Giep Hagoort* | Bart Hess | Roger Hiorns | Joey Holder | Pierre Huyghe/Philippe Parreno | Jennifer Kanary*| Katerina Kolozova* | Kondition Pluriel | Lancel/Maat | Gael Langevin | Lawrence Lek | Koert van Mensvoort* | Reija Meriläinen | Reza Negarestani* | Ingo Niermann* | Albert Omoss | Hans Op de Beeck | Adams Ponnis | Ine Poppe | Suzanne Posthumus | Johannes Paul Raether | L.A. Raeven | Jan Redzisz* | Patrícia J. Reis | Tobias Revell* | Sam Samiee / Mohammad Salemy* | Floris Schönfeld | Bartosz Seifert | Martijntje Smits* | Femke Snelting* | Giselle Stanborough | Hito Steyerl | Hidenobu Sumioka | Anna Uddenberg | Erik Vlemmix/ Henrique Nascimento | Emilio Vavarella* | Anouk Wipprecht* | Pinar Yoldas | Liam Young