The contemporary art event Manifesta is held every two years in a different city in Europe, mostly in the periphery of this continent. This nomadic biennial addresses current themes that have a major impact on societies. It has been doing this since 1993, when the first Manifesta took place in Rotterdam. 25 years later, the twelfth edition is being held until 4 November in Palermo, Sicily. Here the current mayor, Leoluca Orlando, plays an important role in the defense of migrants' rights and the fight against the mafia. Orlando stresses the importance and strength of art and culture for his city and has opened many previously inaccessible buildings for art exhibitions within Manifesta 12. The theme of this edition is coexistence with topics such as migration, climate change and data streams.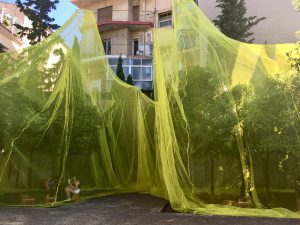 Opening days Manifesta
The opening days were attended by many international art professionals and journalists, which shows that Manifesta is one of the most important art events in the global art world. Artistic director and curator of ROBOT LOVE Ine Gevers, exhibition manager Monique Verhulst and PR manager Daniel Bouw attended the opening days and presented ROBOT LOVE to press and professionals in an Italian setting, a prosecco presentation. In the many discussions that were held, the importance of a critical and optimistic view of robots and AI was underlined. Confirmation of the relevance and urgency of ROBOT LOVE was given through many positive reactions.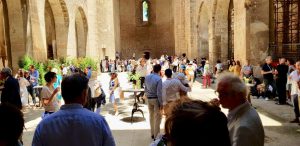 Importance of the projects of the Niet Normaal Foundation
In Manifesta 12, amongst others, work was shown of artists that were part of the previous art event of the Niet Normaal Foundation, Hacking Habitat (Utrecht 2016) such as Christina Lucas, Fernando Sánchez Castillo, Forensic Architecture, James Bridle, Melanie Bonajo. In Hacking Habitat, the predominant role that technologies play in our lives were central and the connection of major themes such as big data, the rise of surveillance, the end of privacy, the democratic deficit in a world run by multinationals, the closing of the European borders, and the exhaustion of our planet. Topics that are also being addressed by Manifesta 12, which shows the relevance of the projects of Niet Normaal and its resonance in other large-scale art events.
Manifesta 12, until 4 November in Palermo, Sicily