The artworks of Zoro Feigl, for instance Playbot, never sleep. They go back and forth, up and down, turn and make a squeaking, abrasive or dragging sound. They are playful and attractive due to their physical appearance. They can put you in a state of trance through their endless movements. His kinetic works play with the notions of control and losing it. Feigl graduated from the Gerrit Rietveld Academy in Amsterdam in 2007 and was the audience favorite in the 2013 edition of de Volkskrant Fine Art Prize. Many people describe his work as spectacular, but he himself rather characterizes it as minimalistic. In an interview with de Volkskrant, he said: "I try to take one single element and take everything out of it".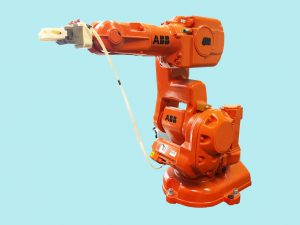 Robotic arm
In the solo exhibition Infinity earlier this year in De Electriciteitsfabriek in The Hague, his artworks could be seen, heard and almost physically felt. The exhibition seemed to be a workshop where the artist could experiment freely. In ROBOT LOVE we can see Feigl's work Playbot, see here, that was made especially for the exhibition. A large robotic arm that we know from the automotive industry. One that with great speed and precision places the smallest parts at the exact right place in the engine block. Here the robotic arm rests on top of a tumbler, a semicircular ball that balances the object. It appears that the robotic arm has lost control and is subjected to the unpredictable movements of the ball. Due to the size of the object, visitors better stand clear and leave the artwork, that knows no rest, be.
Feigl is fascinated by the beauty of seemingly simple objects, that after his experimenting, lose their simplicity. He is fathoming the world of matter and adds dimensions to them which the viewer could not think of beforehand. Wouldn't the robot be controlled, programmed and therefore predictable? Not Playbot. That gives the visitors the shivers and at the same brings them enjoyment.