ROBOT LOVE was one of the highlights of Dutch Design Week 2018 and trending topic during this extremely well attended and successful edition. And ROBOT LOVE continues. The exhibition can be visited until 2 December 2018. During the Dutch Design Week, ROBOT LOVE received thousands of visitors from the Netherlands and abroad. The exhibition and the event programme were highly appreciated by the public and (inter) national press/media. Visitors could spot avatars in Swarming Lounge by kondition pluriel, be caressed by a robot in the Tickle Salon 2.0 by Driessens & Verstappen, and comfort Annelies, the robot sister of the twin artists L.A. Raeven. In four Cyborg Talks, the audience explored the advantages and disadvantages of the far-reaching merger between humans and machines. The prize winners of the Call for Cyborgs showed examples of that fusion on the Cyborg Catwalk. The audio work by Petra Ardai, commissioned by ROBOT LOVE, is also part of the expo.
There are more works of art that have been realized especially for ROBOT LOVE. The general public discovered the most eye-catching projects: Annelies, Looking for Completion by artist duo L.A. Raeven, ABB's First Steps by Zoro Feigl and Swarming Lounge by kondition pluriel. ROBOT LOVE also shows the new mural Love Mysteries by Gijs Frieling & Job Wouters, a most enchanting light installation by Funda Gül Özcan, Ine Poppe's soundwork with fragments from intimate conversations between chatbot PIP and visitors to the Robot Love website, the multimedia installation Artificial Cinema by Sam Samiee & Mohammad Salemy, and PUK*, an artificial intelligence in the making, by Floris Schönfeld.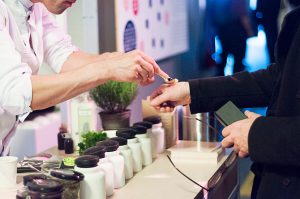 ROBOT LOVE is open until 2 December and offers visitors the opportunity to interact and get up close and personal with robots. During the GLOW light festival, from 10 to 17 November, ROBOT LOVE will again organize special events, including a Robot Sex Summit, while enjoying 28 grams of happiness from food design studio The Eatelier.
For more information about the exhibition, the events programme, the Robot Café and opening hours and the partners consult the website and follow us via social media.